Ecommerce automation is about making certain aspects of your online business automated so that your eCommerce business is more successful.  If you utilize eCommerce automation you can more easily send different messages and notifications to your visitors and leads. This is dependent on specific factors like browse or cart abandonment, and you will better engage with your customers.

You can use eCommerce automation for all the stages of your sales funnel. This will help you to nurture your leads and increase your conversion rate. But it's also great for better managing returning and lost customers. Things like up-selling, cross-selling, and discounts, all play a role.

According to statistics, 77% of eCommerce automation users had an increase of conversions.
Reach out to people who abandon their cart
Ecommerce automation can help you reach out to people who add items to their cart without actually making a purchase. This could be due to different reasons like unexpected shopping costs, concerns about payment security, or perhaps a confusing checkout. Regardless, what you can do is send automated messages to remind people to return to their cart and finish making their purchases.

Sure, it's unlikely you will convert all of your lost visitors but you can definitely make more sales this way. The eCommerce automation for this stage of your sales funnel could send a number of emails to serve as reminders. And if the person makes a purchase, they could receive a thank you email.

Below, you can see an example of an e-mail that deals with the situation of cart abandonment: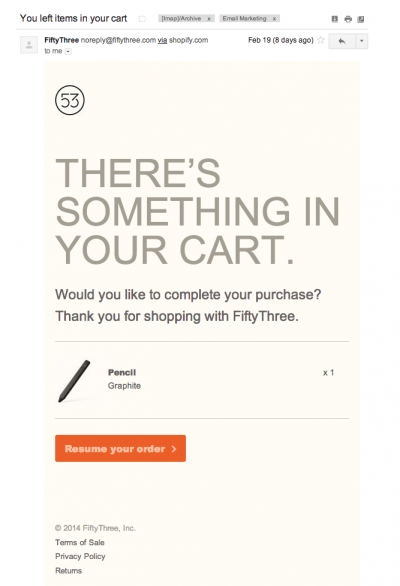 Get social proof with referral programs
Referral programs are a great way to utilize social proof and get your happy customers to help you make sales. The thing with social proof is that people have more trust in the opinions of others when making shopping decisions. You can motivate your current customers to spread the word about your brand by providing benefits for them as well. This could be things like discounts or certain rewards.

When you use referral program automation, this will work depending on different factors. For example, your customers can receive a referral email when they make a purchase. This could include an offer for them to win an award for each referral they make to a friend.

Remember that referrals can bring you new loyal customers, and here's an example of a referral email from Dropbox:
Ask your customers for product reviews
Product reviews are another way to utilize social proof and get your customers to describe the quality of your products. This will get your new potential customers to notice that other people have had a positive experience with your brand.  And when that's the case, they'll be more likely to make a purchase themselves. Therefore, using product review automation can help you make more sales.

As with the other types of automation, sending a product review email will be dependent on several circumstances. This is mainly in regards to a customer making a purchase and when they should receive the product review email. Users need time to experience a product before forming opinions.

Here's an example of a product review email which is straightforward and not complicated at all:
Engage the people who only browse your items
Ecommerce automation can also help you to engage the people who browse items but don't put any in their cart. These potential customers are a bit further from making a purchase than those who abandon their carts. However, they could still receive emails or notifications that prompt them to revisit your products. These could be either the products they were browsing or some similar ones.

What's important is that you pick the right visitors to reach i.e. those who show bigger interest in your products. For example, you can choose to target visitors that have visited a certain product category several times. Or also, it could be the people who have browsed for more than 5 minutes.

Below, you can check out an example of a browse abandonment email that uses dynamic images:
Automate your offer emails
Your eCommerce business will often have particular offers for your customers and these can also be eCommerce automation you use. Offer emails will typically be necessary during certain periods and seasons, such as holidays and special occasions. You can send these to your current customers or to the leads that you capture. Doing so can help you to increase your sales and make more profits.

Considering the importance of timing when it comes to sending such promotional emails, you have to plan things out carefully. So for example, let's say you have some special offer in regards to Valentine's Day. Well, in that case, it would be wise that you send the emails a couple of weeks prior.

It's also important that you segment your customers in terms of their interests, actions, location, and more. Here's an example of an offer email that shows the product with great use of colors: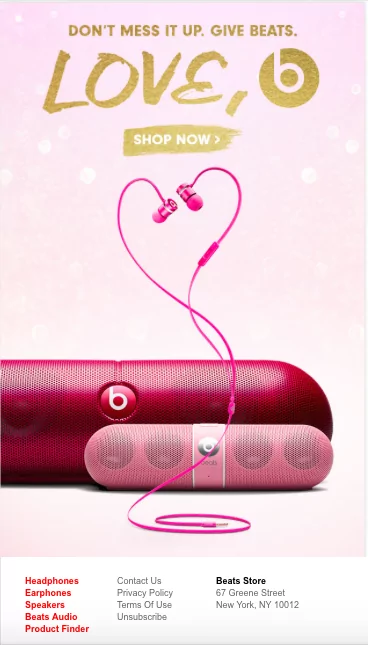 Take advantage of welcome emails
Another type of eCommerce automation you can use is sending welcome emails to people right after they sign up. Welcome emails are important because they have a high open-rate of 50%, which makes them more effective than newsletters. Users who get welcome emails also show more engagement with the brand. These emails can prompt users to take a certain action.

Welcome emails could utilize visuals that go well with the brand and have a proper call-to-action. You may even include social proof and create trust by providing information or statistics about the recognition of your brand. Below you can see an example from Casper and how they have done it.

If you automate the process of sending welcome emails, you will more easily engage your visitors!

Increase your profits with up-selling
One way you could increase your profits is through up-selling and this too could be a type of eCommerce automation. Up-selling is about offering better and more expensive versions of your products or services. This is in regards to the products or services that your visitors are already considering. With up-selling, you need to make sure that the benefits of your better offer are clear.

Another tip is to add urgency, and you could make your up-sell offers available only for a limited time. If you automate this process, the up-selling messages could appear based on specific factors like when a visitor is browsing a certain page. In addition, you may even offer free shipping.

In the following example from Booking, you can see how an effective up-sell offer looks like:
Use chatbots to make more sales
Using a live chat is a great way to increase the chances of your users making a purchase. Sure, live chats are used for answering questions and offering help, but you can make more sales with them too. And if you use chatbots, this can be yet another beneficial type of eCommerce automation for you. Chatbots are made very effective nowadays, and what's great is that they're always online.

Chatbots are capable of even providing a more personalized experience for your users. They can recall conversations from before and also make recommendations that are relevant to the visitor in question. Additionally, chatbots can have conversations with several users simultaneously.

Here's a great chatbot example from Lidl, and their winebot Margot which helps their users greatly:
Offer your customers more products to buy with cross-selling
Just as you can increase your profits with up-selling, the same definitely goes for cross-selling as well. The difference is that cross-selling is about offering complementary products to the ones your visitors are already buying. Cross-selling typically takes place after a user has made a purchase. For example, if someone buys a camera, they could get a cross-sell email about different camera lenses.

The cross-selling type of eCommerce automation will send cross-sell emails at appropriate times after a user has completed an order. This could be within hours or a full day. Of course, complementary products will be relevant to what the users have bought.

Here's an example from BestBuy that suggests additional items for customers that buy a camera:
Save time and resources with inventory management automation
Of course, a type of eCommerce automation that is an absolute must for your business is inventory management. To make your eCommerce business more effective, you will need to sell in multiple places. This means not only your own website but also big marketplaces like Amazon & eBay. But selling in several places also implies a lot of products and orders that will need to be updated.

However, updating all of that data manually would just simply take too much time, and also resources. Well, you can use that time and resources in a far better way by automating the process of inventory management. On that note, know that our tool SyncSpider can do an amazing job.

What's super convenient with SyncSpider is that you can update all of your data all at once. And that's across all platforms. Using SyncSpider, you just need to update things like your product descriptions in one place. From there, the changes can be applied to other platforms as you choose.
Capture more leads by using pop-ups
Pop-ups are a great way to capture leads or make more sales by displaying some of your great offers. These are usually a small window that has a simple design which includes things like a headline and calls-to-action. The timing of pop-ups i.e. when they appear on the user's screen is very important. So it goes without saying that pop-ups can be another great type of eCommerce automation.

There are several different types of pop-ups. For example, a major goal of exit pop-ups is to grab the user's information before they leave the page. Thank you pop-ups, on the other hand, could appear after a user has completed some action like signing-up or purchasing.

Here's an example of a sale pop-up from Zooji that offers a discount for that particular purchase: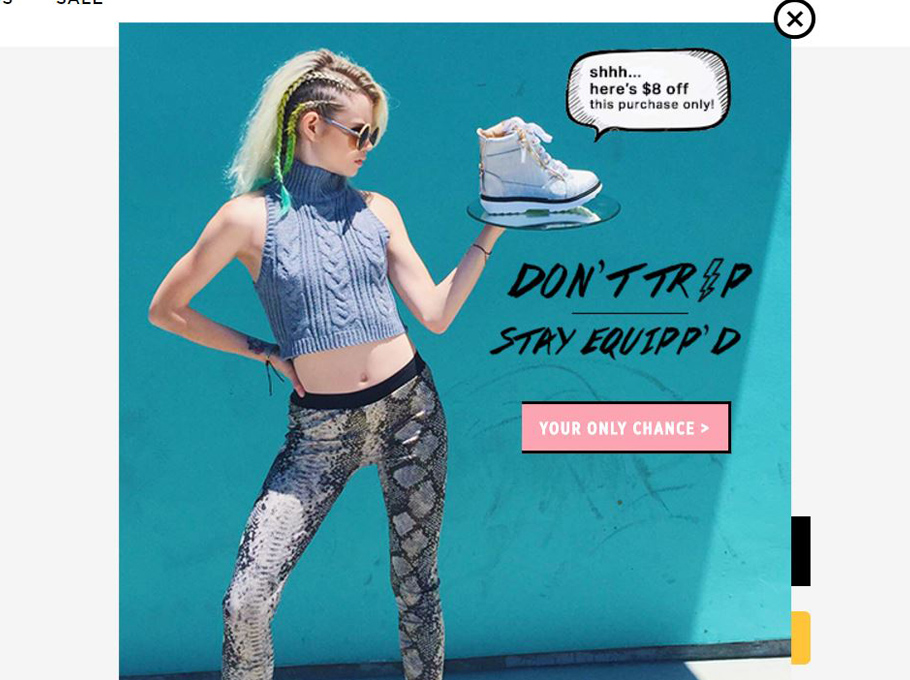 Send automated survey emails to improve your products and services
An interesting type of eCommerce automation is to send survey emails to your customers. These are usually sent within the first few weeks of a customer making a purchase. The goal is to ask questions that are related to your products or services. The benefits of doing this are to use the feedback you get to improve your marketing efforts.  Of course, the survey doesn't need to be complicated at all.

Another benefit of sending survey emails is that you can also learn how to improve your products or services themselves. You can learn more about the needs of your customers and potentially provide solutions. Perhaps, you can ask questions like what improvements would your customers suggest.

Here's a great example from Airbnb that shows gratitude and also doesn't ask for too much:
Provide your subscribers with free gifts to keep them engaged
You may also automate the process of sending emails that include free gifts which can increase the email open rate. These can be sent to your subscribers on certain dates such as once every month. By offering them occasional free value, you will keep them engaged and also make it less likely that they unsubscribe.

A simple way to offer free value is by providing something your subscribers can download. This could even be a special offer where you make something available for free but for a limited time period. Including such limitations may further motivate your subscribers to open the email and engage.

Below you can see an example from Slides who offer a free package of design resources:
Conclusion
To conclude, in this article we've covered several types of eCommerce automation that can help you grow your business better. This includes automating processes that send different messages and notifications to your users depending on certain factors. Instead of doing the job manually, you can save time and do a much better job by implementing eCommerce automation:
Users that add items to their cart but don't actually make a purchase will get reminded via automated messages.
When you have a special offer at certain times, you can send automated emails to let your customers know.
 You can send automated welcome emails to people right after they sign up and prompt them to take action.
You can ask for referrals and product reviews to get more social proof for your brand. Using automation, this will process will be easier and triggered accordingly.
You can also make surveys, up-selling, cross-selling, use chatbots, send free gifts, implement pop-ups, and manage browse abandonment, all with eCommerce automation.
And of course, if you REALLY want to make your eCommerce business run smoother, you should automate the inventory management.  That's where our tool SyncSpider comes in, and using it, you can easily update all of your data across all platforms. This will save you incredible amounts of time and resources, and allow you to spend it in better ways

Still not inspired?
Take a look at how the experts do it. We've curated a massive list of key eCommerce strategies recommended by the leading experts that will help you grow your eCommerce business.